About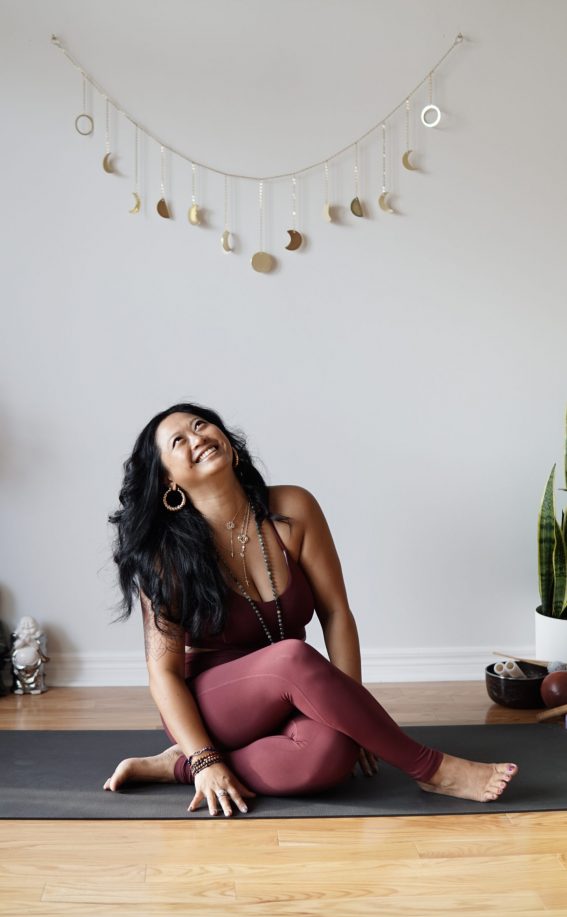 About Rachel Stroescu (200+ YTT Certified)
YOU deserve a place free of stress and external forces that drive your energy down . . . forget about what's for dinner, is the laundry done? FORGET IT ALL and let go for 60 minutes. YES you can. YOU deserve it.
Experience pure love and blissfulness – I believe in creating your personal ZEN DEN and enjoying it!! How you reach there totally depends on you, so long as you unite your breath, mind and body, it's own harmony which creates that perfect tune for your Inner light to shine on and off the mat.
As a yoga teacher, I believe in choosing asanas (poses) that make you feel self-empowered, feelings of soulful balance and deepening your energy exchange with your inner self. Yoga is your journey and I'm here to guide you through the mind-body connection. My goal is for you to create that harmony of breath-to-movement that best fits you for your practice.
Classes are Vinyasa (flow) based with influences from Hatha, Yin yoga as well as various other yoga methods. My speciality are group or one on one private yoga sessions in person/online where students focus on building autonomy in their practice regardless of previous injuries/concerns, we cover flexibility training and strength conditioning.
"I've always shied away from yoga thinking that I would never be flexible enough or be able to follow along comfortably. Innerlightwithrachel changed my perspective to how and what I had perceived as a challenging practice. With Rachel's guidance, the serene atmosphere she provided along with her clear soothing instructions allowed me to open my mind, focus, relax and take in all the inner practices to self awareness and wellness. Her breathing exercises blew me away… literally. Thank you Rachel, your professionalism, strength and passion resonates with everyone you touch and I'm so grateful to have experienced it!"
"In my private yoga sessions with Rachel, I have had the privilege of sharing one hour weekly with a thoughtful and compassionate fellow human. She has been a genuine and generous guide with an intuitive nature to meet my needs. I felt safe in her knowledge and experience. She gave me space to be vulnerable and never failed to make me smile with her playful joyous spirit."
"Rachel cares and takes the time help you focus inwards. It's been year and ongoing practice of daily mediation and yoga, it has helped me balance and continues to strengthen my mind and body. I understand and respect my movements of my body which intern has helped me with my mobility at work. I recommend yoga with Rachel it will change your life for the better. I practice twice a week and really see a lot of results for the better."
"I arranged for Rachel Stroescu to come in for one hour to conduct a meditation/mindfulness session with my Grade 12s. I was looking for some positivity for the students given the current situation of a prolonged lock-down and the general sense of despair and uncertainty many are facing during this unusual time. Teens are delicate, social creatures, and we don't know what the long term effects of isolation are on their social, mental, and spiritual development. Needless to say, the students welcomed Rachel with open minds and hearts..
I would highly recommend Rachel Stoescu as somebody to transform your classroom (digital or otherwise) into a place of peace and positivity. Your students will be better for it. I will be looking to book her again in the future."
St. Brother André Catholic High School
"My weekly yoga class with Rachel has had far reaching positive effects in so many aspects of my life. Rachel puts her heart into the program and the energy is contagious. These after school Yoga sessions are an important part of my week. Class is rewarding for so many reasons, not the least of which is improved sleep and patience, strength and flexibility, as well as new relationships with the other teachers in the class which has all lead to a more meaningful work environment in general. Get to class and reap the benefits!"
St. Brother André Catholic High School
"Practicing yoga with Rachel has been a wonderful experience this school year. I saw an improvement in my physical and mental health as the weeks went by. Rachel is enthusiastic and passionate – she makes sure we safely do our poses while encouraging us to exceed our own expectations of what we can do. We, as a class, were individuals of different levels, but I can confidently say that we all have vastly improved in flexibility and strength under Rachel's guidance. I highly recommend Rachel as a yoga instructor – she will be a great addition to any organization's wellness program!"
St. Brother André Catholic High School
"I've been working with Rachel since Jan 2019 and because of my work schedule/child care I decided to choose private lessons. I have no previous yoga experience so I wanted someone who could teach me at my own pace and be flexible with not necessarily meeting on the same day each week. Rachel taught me about breath and the different yoga breathing. She choose lessons that were different each week based on what she felt I needed like an easier flow to HIT training. I started to do some hot yoga with her as well starting in July and I really enjoyed the heat. The space that Rachel uses is great! Very clean and open and convenient to get to. Rachel is a great teacher with lots of patience and understanding for someone like me who isn't always coordinated and she pushes me to try new things and test my limit."